MoGen Retreats
An annual scientific retreat at a rustic northern lake-side resort where students and faculty can exchange ideas and learn more from one another
At the PowerHour, incoming graduate students will hear brief talks from faculty who will offer spots for rotation students in their labs. In the faculty talks current research in the Department is presented, and in the poster session upper year students will showcase their work.
Other workshops and events are offered to support students and to keep participants entertained, for a unique networking experience.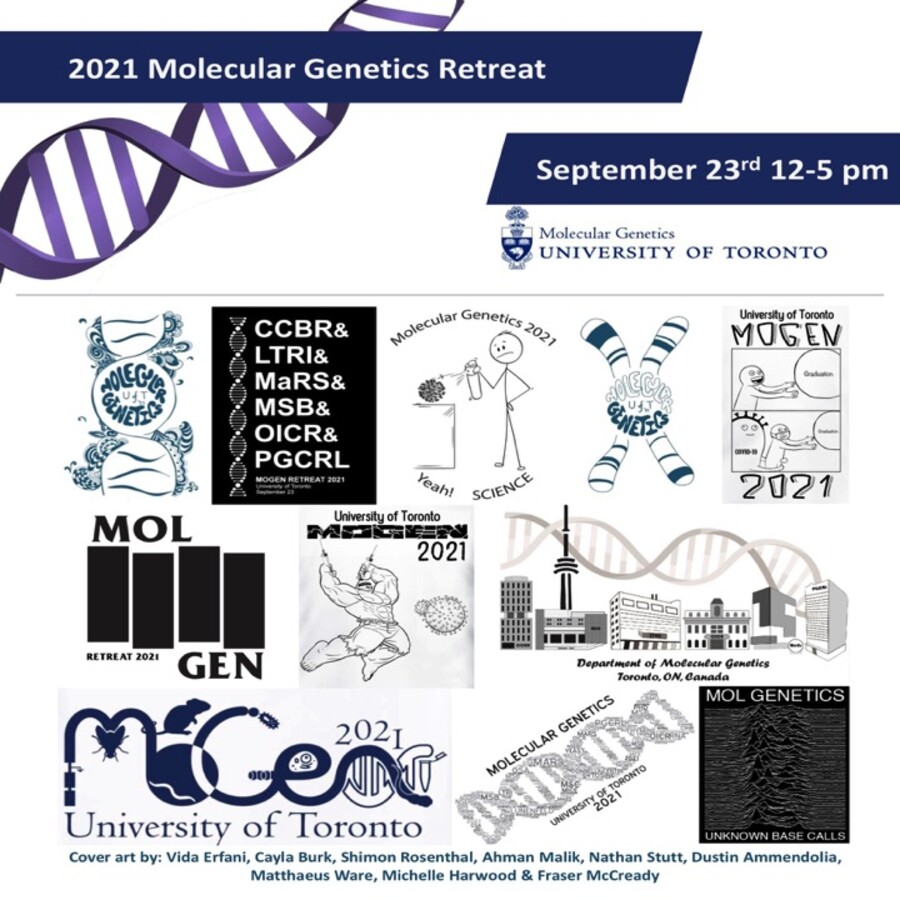 MoGen Virtual Retreat 2021
The MoGen GSA alongside the faculty and administrative organizers once again held a successful virtual retreat on Sep 23rd, 2021.
This year, the retreat started with opening remarks by Dr. Tim Hughes and proceeded with exciting faculty talks from Drs. Gregory Costain, Brian Kalish, Jeehye Park, Sagi Abelson, Peter Roy, and Lucy Osborne. The topics included:
How translational genomics helped diagnose a paediatric patient with a rare variant causing hereditary mucin deficiency
How maternal infection impacts neonatal neurodevelopment
Knock-in mouse models to study ALS pathogenesis
Mouse models to study 7q11.23 copy number variation (being Williams-Beuren and Dup7 hereditary disorders)
How mutation profiles in ageing blood cells can be used to assess risk of acute myeloid leukemia (AML) diagnosis
Using the C. elegans pharyngeal cuticle to study intrinsically disordered proteins (IDPs), which includes pathogenic amyloids
Therapist Mitch Evans from Shift Collab ran a wellness workshop discussing and providing tools to help deal with stress and feeling overwhelmed, as well as talking about how the pandemic has impacted mental health overall. His lovely cat Linda also made a quick guest appearance!
After a coffee break, three concurrent student talk sessions occurred lead by chairs Drs. Daniel Schramek, Julie Lefebvre, and Lucy Osborne. Four students presented per session and gave captivating overviews of their projects.
Afterwards, organizers Reuben Samson and Zoe Clarke led an 8-second challenge between two faculty teams. The winners were the "Cranium Crushers", consisting of Drs. Kieran Campbell, Alan Davidson, and Julie Lefebvre. Attendees also had the pleasure of viewing a Cats musical parody on YouTube by organizer Zoe Clarke and Alastair Kierulf lamenting the struggles of research and lab work, with guest appearances from Dr. Ian Scott and the Ramalho-Santos lab.
To wrap things up, the student awards ceremony commenced. For the student talk awards (which had three sets of winners for each session), Biren Dave, Anna Axakova, and Afrin Bhattacharya won first place, while Katarina Maksimovic, Zoe Clarke, and Wendy Choi won second. The t-shirt design contest was won by Matthaeus Ware, whose logo will be displayed on the tops gifted to attendees (and featured in the accompanying image). Finally, the research awards were announced and are highlighted under Trainee awards below. Congratulations to you all!