Student Seminars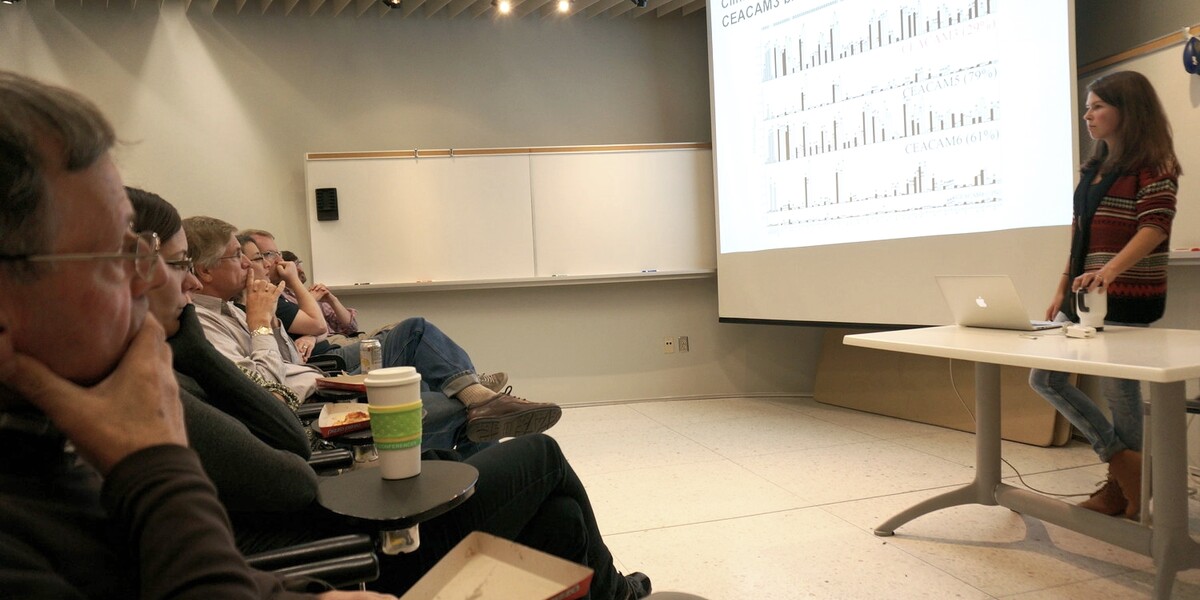 Information about upcoming talks, schedules, courses and more
---
Departmental Seminar Programs
The Departmental Student Seminars are an important and required part of the department's graduate curriculum (see below) and are held Tuesdays at 2:00 p.m (September – April).
In addition to the Student Seminars course, numerous informal seminars, journal clubs and laboratory meetings are held at assorted venues and in specific research nodes across the Department (e.g. MicrobeTO, Toronto RNA Club, Collaborative Specialization in Developmental Biology, etc.). These venues provide a unique opportunity to hear colleagues' most recent experimental results and provide students with ample opportunities to hone their presentation skills. These communication skills prove invaluable when students present their work at international conferences and search for post-doctoral or other positions.
---
Student Seminar Courses 
Students who entered in Jan. 2019 or earlier will need to complete: (MMG1015, MMG1017).

Students who entered in Sept. 2019 until January 2021 will need to complete: (MMG1011, MMG1021, MMG1031).

Students who entered in Sept. 2021 onwards will need to complete: (MMG1111H, MMG1112H, MMG1113H, MMG1114H, MMG1115H).
COURSE COORDINATORS: 
M.Sc. Seminars: MMG1015, MMG1011/MMG1021, MMG1111H, MG1112H, MMG1113H, MMG1114H: Richard Collins, Alan Davidson, Scott Gray-Owen, C.C. Hui, Lucy Osborne, Laurence Pelletier, Daniel Schramek, Ian Scott, Lincoln Stein
Ph.D. Seminars: MMG1017, MMG1031MMG1111,MMG 1112H, MMG1115: Richard Collins, Xi Huang, Ran Kafri, Kenichi Okamato, Miguel Ramalho-Santos
The primary goal of the Student Seminar Courses is to provide practical experience and guidance in the clear and concise oral communication of research results to an audience of educated, though not specialist peers. This is an essential skill for anyone intending to seek a scientific career. Completion of this course is mandatory for all graduate students in the program. A secondary goal is to give each student a broad knowledge of all aspects of research undertaken in the Department of Molecular Genetics. A student may be asked to demonstrate some familiarity with research in the Department not necessarily closely related to their own at any oral examination. Attendance at the Student Seminars is the major means of acquiring this knowledge. Students should make every effort to attend all seminars. Students are required to complete a seminar evaluation form for the attended seminars. The Evaluation Form will be distributed weekly. Please note: students are required to complete all fields within the evaluation form. It is a requirement to provide a question for the presenter for the evaluation form to be complete and receive a grade for attendance. Student supervisors are also expected to attend the Student Seminars regularly. Since an interactive audience is essential for the success of this series, students and faculty are also expected to ask questions. To promote the participation of students beyond the seminar presentations themselves, students scheduled to speak in a given year may participate in the PI's feedback session with the speakers following each presentation. Marks are assigned based on the evaluations by PIs and students in the audience, along with attendance at seminars throughout the year.
See the Graduate Handbook and Curriculum for full course descriptions.