Capstones to Careers: Samantha MacPherson
Medical Genomics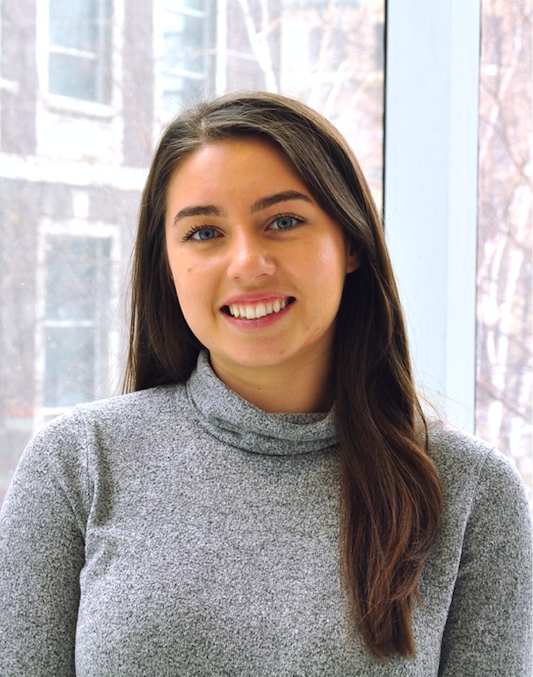 Samantha MacPherson is a 2020 graduate of the M.H.Sc. in Medical Genomics Program who is currently enrolled in the MD program within the Temerty Faculty of Medicine at the University of Toronto. Sam completed her practicum placement as a genome analyst at the Cardiac Genome Clinic (CGC), and explains how the experience inspired her to pursue medical studies.
The CGC is housed within the Ted Rogers Centre for Heart Research, located in the heart of Toronto's Discovery District. Sam's role included conducting variant analysis from whole-genome sequencing data from a cohort of patients with congenital heart defects (CHDs). The CGC is conducting research to elucidate the genetic basis of CHDs in patients that were unable to obtain a genetic diagnosis through traditional testing. Sam found it fascinating to go through the process of piecing together the genomic and phenotypic information to try and better understand the genetic etiology behind the patient's condition. She explained that while congenital heart defects are known to have genetic underpinnings, concrete genotype-phenotype relationships still need to be elucidated through further research, especially compared to classic Mendelian diseases, which are easier to track and interpret in pedigrees, making her role challenging. She was excited to be involved on a project aiming to discover genes implicated in CHDs to help bring whole-genome sequencing for these conditions into the sphere of clinical diagnostics, so that it can be used to help patients who cannot be diagnosed using standard genetic tests.
Sam's practicum experience fueled her drive to continue pursuing medicine. She explains that her work at the CGC allowed her to better understand the field of clinical and research genomics; seeing that genomics is a booming area of knowledge. She notes how genomics is a new and evolving field in medicine, and still has areas where it can be further integrated into clinical practice. This inspires her to become a physician well-versed in genomics, hopefully helping other future doctors learn about the field along the way. Sam wants to continue being involved in clinical genomics: "my work at the CGC was very motivating – finding a pathogenic variant that is medically actionable is rewarding, while cases where we found no variants made me hopeful that the field is improving so that one day these patients will get the answers they are looking for."
Sam expresses how her time at the CGC taught her many actionable skills she will take with her as she continues her studies. Beyond the variant interpretation and analysis skills she developed, Sam values how much the CGC team collaborated and learned many team working skills: "We would have weekly meetings to discuss findings and made decisions for each case based on the evidence available. Everyone contributed, and it was exciting to work in a team of people with the same goals of helping patients".
Sam explained how her experiences in the MedGen program will contribute to her future career as a physician, noting how she has a strong insight into the genetics of the conditions discussed in classes. She also notes that understanding the technical aspects of genetic testing, including the different tests available and their appropriate uses, and the logistics and barriers of testing, will help her in providing care and information to patients and clinicians.
Sam is not entirely sure what she wants her future medical career to look like. She's still in the exploratory phase; shadowing clinicians, searching for research projects to get involved with, and connecting with mentors. She knows that she will always integrate genetics into her practice, and promises to stay connected with her peers and colleagues in medical genomics. She notes how interconnected the medical genomics field is, and is excited to collaborate with many of the experts and alumni she's met in the MedGen program in the future. She hopes this will help her keep on top of a field that is always expanding and evolving. She hopes to share this knowledge with her fellow medical students, hoping to be involved in helping her peers understand genetics and how the field can impact patient care in their specialty practices.
We wish you all the very best in your studies and career, Samantha!
Image provided by Samantha MacPherson.